Well, they still haven't cot­toned onto the sematic web thing (per­haps because they're not try­ing to get indexed by any­one else!), but Aus­tralian engines keep pop­ping up. Of late, we've seen an aggres­sive mar­ket­ing cam­paign from Telstra-owned Sen­sis Group, both for their own gen­eral pur­pose search engine, Sensis.com.au, and for their sub­sidiary Yel­low Pages directory.
In fact, so pro­lific is this cam­paign that the two often col­lide in spec­tac­u­lar style, as I dis­cov­ered on my (pro­longed, cour­tesy of the Cross City Tun­nel stu­pid­ity that gripped Syd­ney today) bus trip into the city this morning.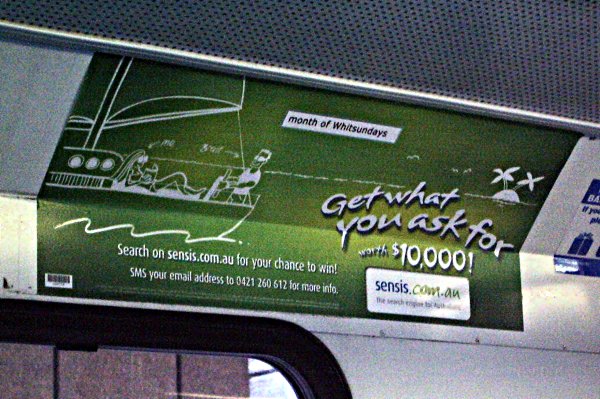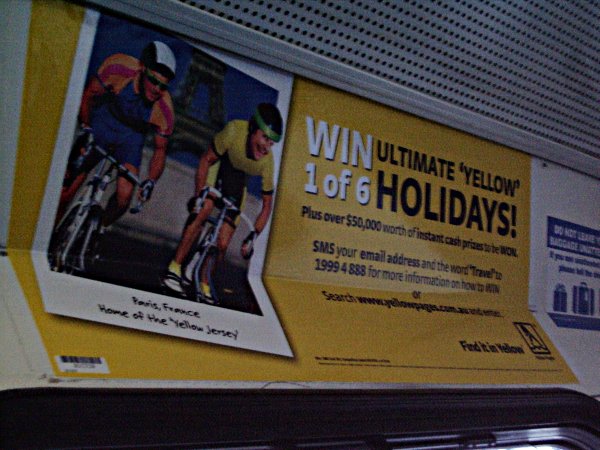 It wouldn't have been so tragic if their cam­paigns weren't so sim­i­lar… but they are. The only dif­fer­ence, appar­ently, is the strength of exe­cu­tion: note the SMS com­po­nents of each cam­paign vary slightly, with Sen­sis using a reg­u­lar num­ber (pre­sum­ably to add unsus­pect­ing com­muters email addresses and phone num­bers to a data­base for on-selling) whilst the Yel­low Pages have at least gone to the trou­ble of acquir­ing a ded­i­cated pro­mo­tional number.
As a side note, their index is heav­ily com­mer­cially geared, and seems to lever­age "Aus­tralian" results purely on the basis of domain name­space (that is, .au). As a devel­oper, I'm not ter­ri­bly impressed with it, but, unlike Ansearch, this is a force that may have to be taken seri­ously into con­sid­er­a­tion in the months and years to come.