Okay, if this isn't already all over the web it should be, and I'm post­ing about it any­way because Sony/the agency that did it deserve all the viral mar­ket­ing they get over this ad.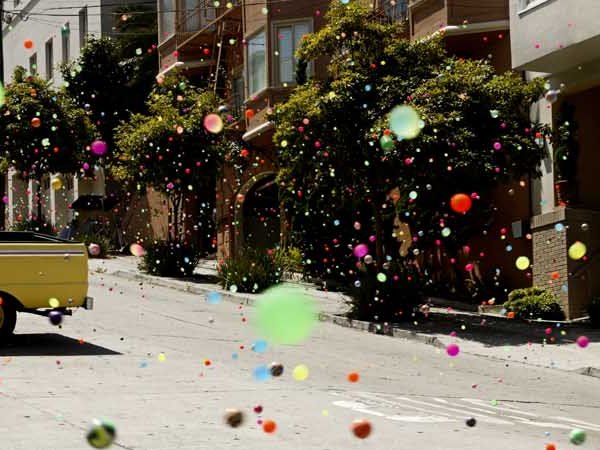 No CG (well, prob­a­bly in the tran­si­tion at the end, but that doesn't count). Lots of bouncy balls. The making-of fea­turette (on the "Behind the Scenes" page) is worth a look, too… the cam­era oper­a­tors are wear­ing head gear, and there are peo­ple with those plex­i­glass riot shield things. All the cars were props, but in the mak­ing of you can still hear alarms going off… I imag­ine that could be a byprod­uct of the small earth tremor released by 250,000 balls pelt­ing down a hill.
I'm not in the mar­ket for an LCD TV, but… damn. I don't know quite how these things can be tech­ni­cally sig­nif­i­cantly bet­ter than any­thing else on the mar­ket, but I'm now inter­ested to find out. And have a pro-Sony bias, at least for this prod­uct (def­i­nitely not for their audio equip­ment or their record label or dig­i­tal cam­eras or… the list goes on).
The video is in H.264 for­mat but even the broad­band ver­sion isn't mas­sive. I dig the music, though.
posted on Friday, November 4th, 2005 at 2:00 pm by Josh Street, filed under
AV
,
Photography
.