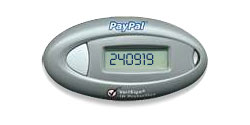 These things can be had from Pay­Pal for about five bucks. Or $7.50 if you're an Aussie. Verisign will flog them off to you for $30, if you'd like, but basi­cally Pay­Pal rocks for this kinda stuff. It's a one-time pass­word token that effec­tively enhances your authen­ti­ca­tion by a mas­sive degree. It's cool because it works with Pay­Pal and eBay. It's cooler (and worth­while) because you can poten­tially use it with OpenID.
Essen­tially, it's a ran­dom num­ber seeded with a unique key that gets appended to your reg­u­lar pass­word. This defeats key­log­gers and pretty much all kinds of phish­ing cur­rently out there. These kinds of devices have been used in cor­po­rate VPN/dial-in sce­nar­ios for years now (pre­dom­i­nantly, in the sit­u­a­tions I'm aware of, with tech­nol­ogy by RSA SecureID), but this is the first I've seen of it from Verisign.
And, sure, it's only as secure as phys­i­cal secu­rity or the end­points them­selves are, but it's a mas­sive step up from "what's your cat's name?" two-factor auth (though, unfor­tu­nately, I think PayPal/eBay offer that as a backup).
I've ordered mine and will prob­a­bly be hav­ing a play with OpenID imple­men­ta­tions of it (backed by Verisign's PIP ser­vice, but not overly tied to it because of OpenID's identity-delegation abil­ity) once it arrives (10 busi­ness days).
Can't help but won­der what Verisign's rates for these things are in a stand­alone sense. Nor­mally on 5 year con­tracts, but in terms of cost-per-token. Seems like a great way to defeat the idiot users who insist on hav­ing pass­words that are bla­tantly obvi­ous (argue all you like about strength poli­cies: it's often not fea­si­ble when bal­anced against sup­port load for resul­tant for­got­ten passwords).
Also, to those who argue Pay­Pal = evil, if you're in Aus­tralia then please… don't. Unlike in the US, here they've basi­cally got the same finan­cial report­ing oblig­a­tions as any bank does, and cus­tomer ser­vice nec­es­sar­ily to match it. All the hor­ror sto­ries from the 'States (not that I think them uni­ver­sally untrue!) pretty much couldn't hap­pen here or they'd be chucked out of the coun­try. And, whilst they're so heav­ily sub­si­dis­ing (or at least obtain­ing bulk dis­counts for) this kinda tech, that's cool with me.