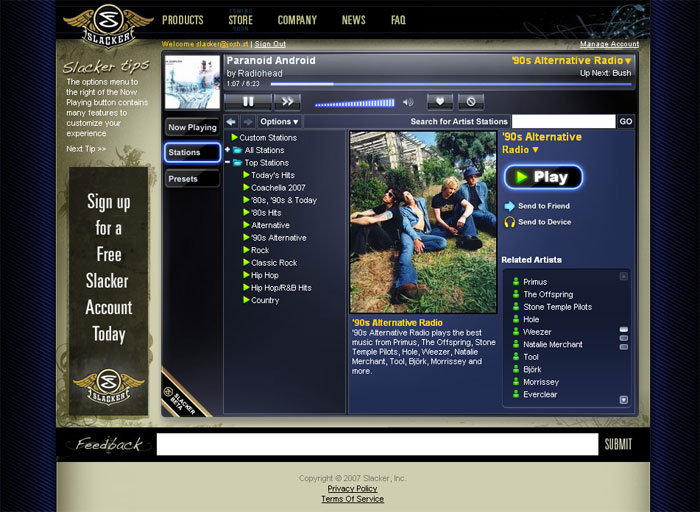 This ser­vice rocks. It's free, has a pretty good range of music, and is guar­an­teed to make me buy more music (on CD, because all elec­tronic music down­load ser­vices are still either ille­gal or stupid).
The Flash player kicks butt (there's a desk­top one com­ing soon), and intel­li­gently hooks into the webpage's markup to update the title with every new song. It's gold. Song Title by Artist from Album Name. It says Album Name! I'm sit­ting here scrib­bling down must-acquire '90s music.
It uses AAC2+ appar­ently… all I really know is that it sounds great and is stu­pidly easy to use.
Bril­liant.
But pos­si­bly unsus­tain­able… none of my money is going to them. They're launch­ing hard­ware devices, so this might just be a ploy to get peo­ple to buy them, but I'm more inter­ested in who's doing all the work. There's absolutely zero crowd-sourcing going on here that I can see… which means that "Related Artists" list is all pro­fes­sion­ally pro­grammed. I know the Top Sta­tions are, but the artists bit is going a lit­tle far perhaps…
Triple J Unearthed and Myspace and PureV­ol­ume, etc., all do it the other way around, which seems infi­nitely more sen­si­ble… but you need crit­i­cal mass to get there, I suppose.
One to watch. And lis­ten to.