Please stop me if I am mak­ing a fool of myself by over­flow­ing with gush­ing praise for this thing, but, seri­ously, the best $75 I ever spent on soft­ware. (Yes, you can get the lat­est Office Ulti­mate for $75 if you're a stu­dent. Legit.)
The new ver­sion of Word is a thing of beauty. It just works, and makes sense, and is gen­er­ally a usabil­ity won­der. I'm sure some­one will pub­lish a study to the con­trary in the next week, but I don't care — it is per­fectly intu­itive to a non-Office lit­er­ate user. Yes, that is myself – I've bat­tled with OO.org for years, and am utterly con­vinced it sucks. I have occa­sion­ally fought with MS Office prod­ucts in this time, and bat­tled slightly less, but still it's felt like I'm doing things the slow way. Every essay I've writ­ten over the last eigh­teen months is stored in LyX (LaTeX) for­mat: I've basi­cally not used a word proces­sor for any­thing seri­ous in at least that long. And I haven't used a Microsoft word proces­sor at home for three years (on a hor­ri­ble lap­top), and not on my pri­mary desk­top com­puter for four, or pos­si­bly five. His­tor­i­cal per­spec­tive: I started using Win­dows when I was 7, stopped when I was 15 or 16, and returned at 18 ½ — Microsoft have got good rea­son to be try­ing to bring me back into the fam­ily, because I've been away for a long time.
I am as upset as the next web devel­oper about the Out­look team's brain-dead deci­sion to switch back to Word as the pri­mary rich email ren­der­ing engine, but will wax lyri­cal about the new cal­en­dar­ing fea­tures in Out­look!! For they are greatly beau­ti­ful. Observe my three cal­en­dars (Organ­ised into: Per­sonal & Work; Uni; Church) lay­ered together here: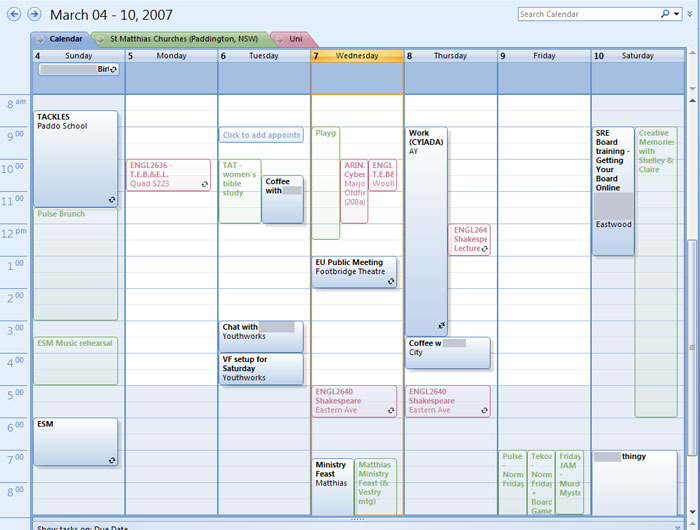 Groove makes me shrug enor­mously, it does noth­ing use­ful for me. Unless it's like Share­point only… good. But even then, I've never dug that whole Intranet col­lab­o­ra­tive thang. Really, if I were going to run bloat-inducing col­lab­o­ra­tive soft­ware, I should start with Adobe's Ver­sion Cue. But I don't use it because… too many apps in my tray annoys me, and Fire­fox eats all my mem­ory as is (screeny from yes­ter­day… it peaked at about 1GB but I couldn't be both­ered tak­ing another):

The only rea­son I still use that bloody browser is its exten­sions sup­port: Fire­bug has stolen my heart where Office 2007 hasn't yet. Here's its asset down­load gra­phy thingamijig:

It's even bet­ter than Chris Pederick's tool­bar. But oh how I'd love to switch to Opera (or even, shock, IE) full time now. Fire­fox really isn't doing it for me with its bloat these days.
Speak­ing of bloat, Office 2007 is one 500MB down­load. It doesn't down­load a 500MB stub and then install the rest — no, that includes Word, Out­look, Pow­er­point, Excel, Pub­lisher, … and all the other ran­dom crap I installed but will prob­a­bly never use. Fantastic.
Every­thing is pretty fast (but it emphat­i­cally encour­ages you to install Win­dows Live Desk­top, and see­ing as I'm a beta tester for other Live stuff pretty will­ingly, I fig­ured I may as well, and when you first install that index­ing makes every­thing chug) which is excel­lent — but I'm still look­ing to buy a new dual core 939 some­time soon. Graph­ics are fine because I have no inten­tion of upgrad­ing to Vista (read: need­ing DirectX 10 and a $1000 graph­ics card) in the next 18 months at least, but… well, another 2GB of RAM would go down nicely. Shame it's still rel­a­tively expen­sive, though.
Microsoft, I wasn't going to pirate your soft­ware because it's not that good, but thanks for the dis­count, anyway!