I peri­od­i­cally freak out when review­ing emails that I've sent, par­tic­u­larly to print­ers, using Gmail's (hosted apps) web­mail inter­face. It has this habit of con­vert­ing CMYK JPGs to RGB thumb­nails really badly — but with­out appar­ent corruption.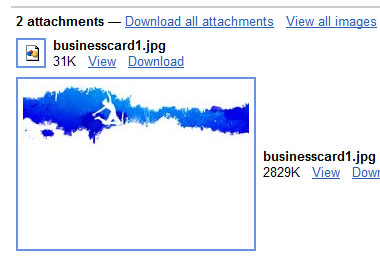 The blue in the image above is actu­ally a deep red!
Accord­ingly, while the colours are totally out of whack, there are no other arti­facts in the image. Nor­mally this just looks weird — some­times, in the case of logo vari­ants, it looks plau­si­ble but utterly incor­rect! My guess is they're using an older ver­sion of PIL (we all know how much Google loves Python) prior to this March 2009 patch. Sounds like the same phenomenon.
Still, those peo­ple email­ing CMYK JPGs has to be a lit­tle bit niche, so I'm not heaps hope­ful of this get­ting fixed too soon! The main rea­son I care is because web inter­faces are so much faster than retriev­ing large attach­ments from IMAP stores.