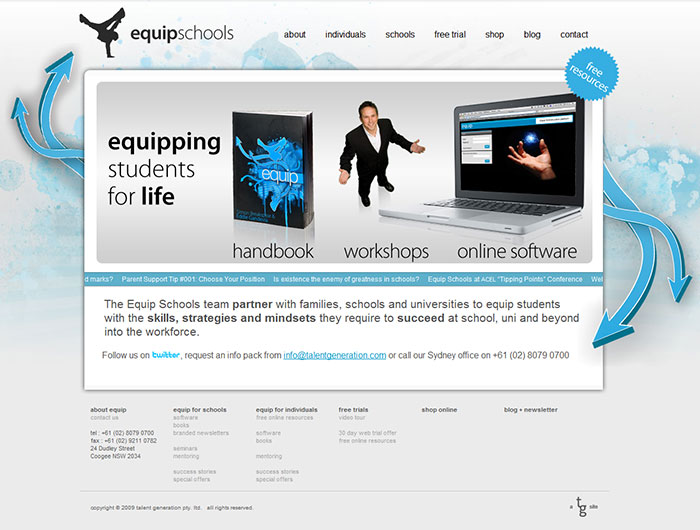 We recently refreshed one of our core prod­uct web­sites, Equip Schools. It hits a fairly com­plex mix of schools, parents/carers and indi­vid­ual stu­dents and we spent a lot of time try­ing to best artic­u­late how the pro­gramme speaks to the var­ied con­cerns of each of these groups.
The prod­uct has three curriculum-driven strands in the form of work­shops, pub­li­ca­tions and software.
The soft­ware strand is cer­tainly the most dis­tinct of the three in terms of con­ven­tional expec­ta­tions of life-skills / per­sonal man­age­ment pro­grammes that schools already run — and we're still com­ing to terms with the best way to artic­u­late that within the web­site. We've devel­oped a brief (16 minute) train­ing DVD that accom­pa­nies the prod­uct — how­ever, this is obvi­ously too long for ini­tial con­tact and, while being highly explana­tory, doesn't really artic­u­late the thou­sands of hours of edu­ca­tional psy­chol­ogy research and stu­dent men­tor­ing that inform the prod­uct as it stands today.
Dis­till­ing that down to a 10 minute pack­age is a tall ask, but it's also some­thing near on the hori­zon as we seek to make this avail­able to indi­vid­u­als beyond the school context.