Our new printer/scanner thingy arrived today, which is, as the title sug­gests, an HP Pho­to­s­mart 2610. We lease our print­ers, so the Office­jet G85 is going away *sniff*, but this thing promises new and bet­ter things! (Even if some of the soft­ware sucks — I'll get to that, later.)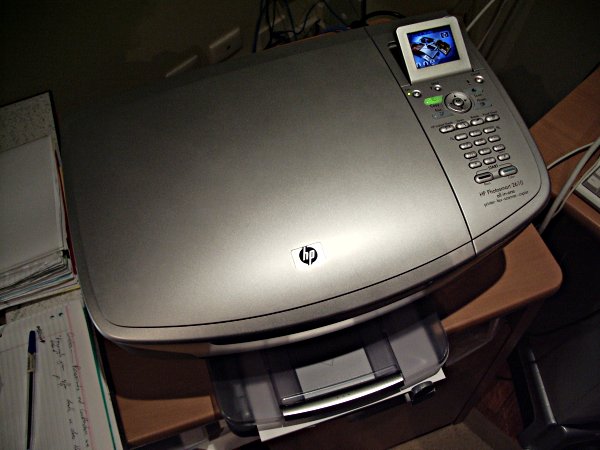 You can see the printer in that photo — it's a fair bit smaller than the G85 was (before you go search­ing — because I know you actu­ally care that much — I've only ever fleet­ingly men­tioned that printer on here before. A quick search just turns up a whinge about dri­vers, from last July.), prob­a­bly between two thirds and a half its size (in terms of bulk — it has an equiv­a­lent foot­print, or maybe a bit shallower).
So what's this thing do? Print­ing, scan­ning, fax­ing. Duh. It also has Pict­Bridge stuff (which I doubt I'll ever use), mem­ory card slots, an LCD dis­play, and net­work support.
I'm still uncer­tain which of the last two is cooler, but I'm lean­ing towards the net­work support.
The main con­trol panel is very well planned out, and highly usable.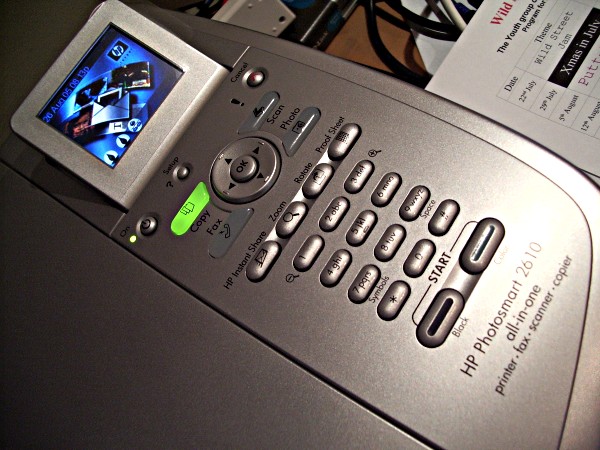 The LCD screen tilts back­wards and for­wards (into a recessed area within the printer), and is backlit.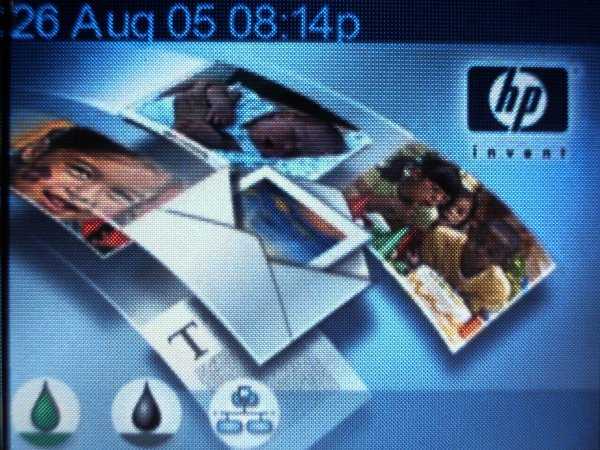 Its view­ing angle is pretty mediocre, but it's good when you've got your head in the right place/adjusted the screen properly.
Now that I've got the triv­ial stuff out of the way with lots of pic­tures, time for some more excit­ing and slightly-less triv­ial stuff with even more pic­tures! The net­work feature!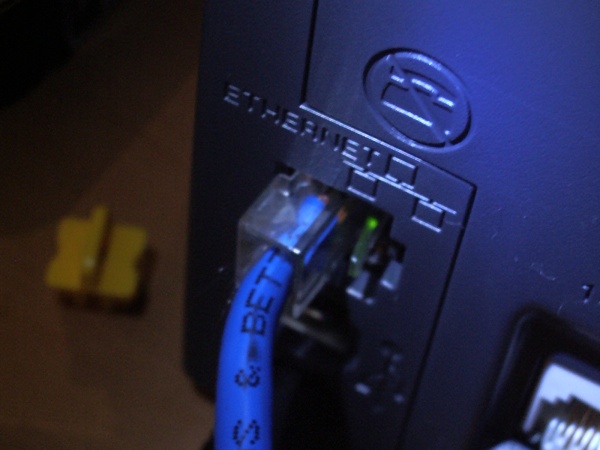 Yeah, okay. We've all seen a plugged in net­work cable before. Prob­a­bly even seen a net­work cable plugged into a printer before. So why's this spe­cial? To quote Eliz­a­beth Bar­rett Brown­ing, "Let me count the ways" — okay, so I'm not quite in love with it. (Thank goodness).
For one, this is a dirt cheap con­sumer printer. Well, prob­a­bly a lit­tle more than dirt cheap. But squarely in the home/SOHO mar­ket, so the net­work sup­port (it does USB, too) is out of the ordinary.
Not only is the pres­ence of a port out of the ordi­nary, the soft­ware side of things is also sur­pris­ing. HP, of course, have their own "Jet­Di­rect" net­work printer pro­to­col. Which isn't IPP, and isn't some crappy Win­dows share. It's sup­ported on Unix sys­tems thanks to HP's co-operation with the open-source com­mu­nity, and on Windows/Mac sys­tems, HP bun­dle soft­ware to deliver this functionality.
Still noth­ing spe­cial? Okay. How about this.
You can not only use this net­work printer to print, but also to file share and net­work scan.
Yeah. Cool, huh? When­ever you plug a card into the mem­ory slots, it will appear as a net­work drive on Win­dows sys­tems with the HP soft­ware installed (with one caveat, but I'll get to that soon). I'm not sure what hap­pens with Mac com­put­ers, but I imag­ine it'd be sim­i­lar — we haven't got any of those here for me to test with, a sit­u­a­tion I'm plan­ning to rem­edy in the near future.
Whilst on the topic of those mem­ory slots, it's also pos­si­ble to scan on the device direct to the card, so you don't even need a com­puter with dri­vers for scan­ning. Also, much in the same way as many con­sumer scan­ners have a but­ton you can press to acti­vate scan­ning on your com­puter, this device sim­i­larly allows you to do that — only you're given a choice of which network-connected com­puter to send the scan to!
Scan­ning needn't be so com­pli­cated, how­ever. The first thing I did after installing car­tridges was to setup the net­work inte­face man­u­ally to ensure the device had a sta­tic IP and couldn't get lost on the net­work. In my usual com­pul­sive geek-investigator state, I scanned the ports of that IP (I picked 192.168.0.4, the low­est sta­tic IP still avail­able on my net­work — we also use 192.168.0.101 to 200 for DHCP, but that's a story for some other time) and dis­cov­ered that in addi­tion to the Jet­Di­rect and Win­dows file shar­ing ports, there was also port 80 open.
Score! I thought, as I hadn't expected any­thing so civilised as a web inter­face on this thing.
I loaded up the page, and was greeted with this: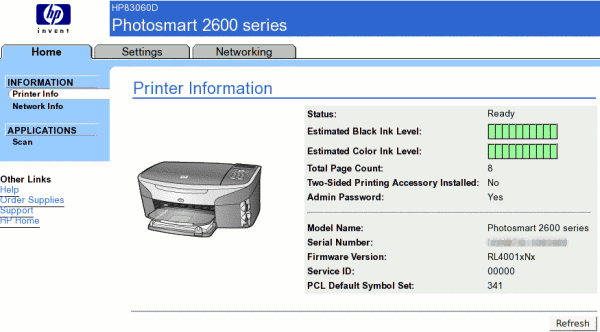 It gives mis­cel­la­neous infor­ma­tion about the sta­tus of the printer, along with links to var­i­ous other func­tions. The most impor­tant of which is "Scan".
Click­ing through to "Scan", I'm greeted with a sim­ple enough screen that offers a choice of image type, and doc­u­ment size. One thing that does suck here is that A4 isn't an option for the doc­u­ment size, so it's impos­si­ble to scan the full size of the plate with the web inter­face. Stan­dard desk­top scan­ning soft­ware has no prob­lems, this is just a usabil­ity flaw in the web interface.
You can pre­view your scan in this page, as shown in this screenshot…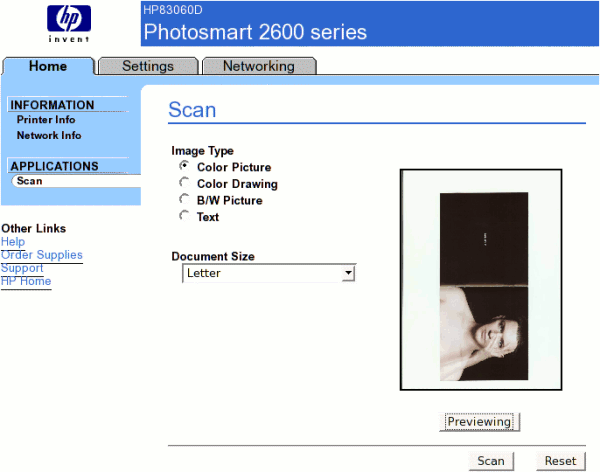 …before pro­gress­ing to the actual scan.
This next bit had me con­fused. At first, I thought it just didn't like Fire­fox — so I walked over to a Win­dows com­puter and gave Inter­net Explorer a go. Same prob­lem. It said the scan had com­pleted suc­cess­fully, but I couldn't see any­thing. Inter­net Explorer, how­ever, offered a more intru­sive expla­na­tion of what had hap­pened, proudly pro­claim­ing that it had blocked a popup window.
So, back to Fire­fox, I added 192.168.0.4 to the list of allowed popup sites, and all was merry.
The expe­ri­ence has been a mostly pos­i­tive one, with one excep­tion. Their Win­dows XP soft­ware sucks. That needs some qual­i­fi­ca­tion — it only sucks if you're using it in an envi­ron­ment that has been admin­is­tered cor­rectly. If you're Joe-my-computer-is-full-of-spyware-from-running-as-administrator-Smith, then you're in luck (for once): it'll work fine. But, if you've setup user accounts (as could be expected, even in a small net­work envi­ron­ment) that aren't run­ning as Admin­is­tra­tor (even the Power User group doesn't work), then you can't print or scan or read the con­tents of flash disks in the printer.
As I write, there is no known solu­tion to the prob­lem, and what I've read would sug­gest that HP are deny­ing such a prob­lem exists. Well, it does, and it isn't solely because of inept administration.
In all, a good device marred by a few soft­ware flaws. If you're look­ing for a net­work printer for a non-XP envi­ron­ment, be that ear­lier ver­sions of Win­dows or Mac OS X or a *nix envi­ron­ment, I'd say it's a great buy. Bonuses are the abil­ity to use the flash card reader on all con­nected com­put­ers, net­work scan­ning, and an LCD pre­view display.
In terms of print qual­ity, the colours are okay, though key (black) isn't won­der­ful. I've only tested on 60GSM paper, though, so that's obvi­ously a con­tribut­ing fac­tor in my judge­ment. I doubt the qual­ity would be of con­cern to most users, at any rate. It's more than ade­quate for most desk­top tasks.