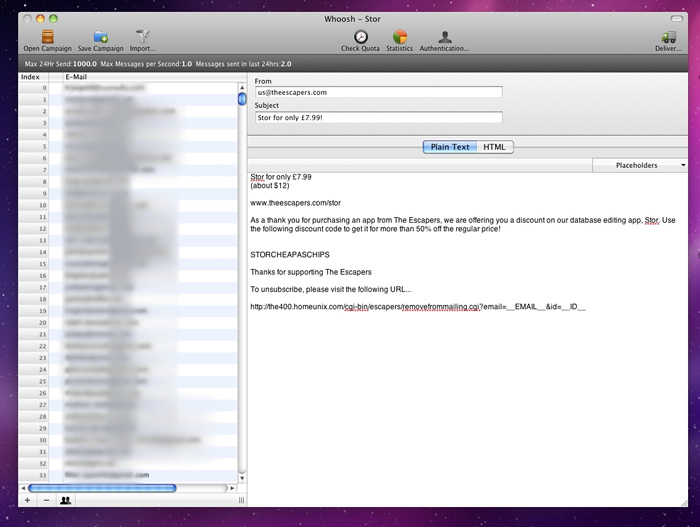 After spend­ing a day and a bit last week hack­ing together a sim­ple mailer (with merge capa­bil­i­ties) for Amazon's Sim­ple Email Ser­vice (it's really pretty sim­ple) it struck me that there must be a bet­ter way to do this. I toyed with launch­ing a web app for oth­ers to use to sim­ply accom­plish the same thing, but fig­ured some­one, some­where, must've already done some­thing sub­stan­tially similar.
Turns out they have. Per­fect.
For us, SES was a great way to send once-off per­sonal mail beyond the vol­ume that our Apps for Domains accounts per­mit. The biggest down­side was Amazon's rate lim­it­ing — some­thing that still applies for this app.
This app would've made the process a lot quicker, though I'm not sure of its value for reg­u­lar list email­ing — which seems to be how they're mar­ket­ing it. You're not just pay­ing to send emails with MailChimp/Campaign Mon­i­tor — you're pay­ing for deliv­er­abil­ity and list man­age­ment. AWS give you the deliv­er­abil­ity side (at least, that was our expe­ri­ence) but do noth­ing to help you with unsub­scribes, updates, and tracking.
That said, if I'd found this a week ago…