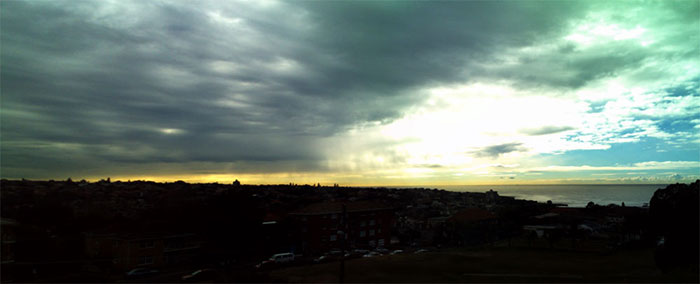 Fri­day was a pretty insane day, but I snapped this photo (cam­er­a­phone, dunno what hap­pened top right!) arriv­ing at our office in the morn­ing before get­ting into it. We've got a pretty incred­i­ble view over Coogee, which is fan­tas­tic… except for when the sea and sky are such amaz­ing colours and you know there's not a chance of actu­ally get­ting out­side to it!
There were some sheets of light rain and these incred­i­ble clouds that cleared off to per­fect skies and an ocean that even I, some­one who doesn't par­tic­u­larly rate swim­ming and has never learnt to surf despite liv­ing within 5km of the coast his whole life, wished I was free to head over to.
It is good to give thanks to the Lord,
to sing praises to your name, O Most High;
to declare your stead­fast love in the morn­ing,
and your faith­ful­ness by night,
to the music of the lute and the harp,
to the melody of the lyre.
For you, O Lord, have made me glad by your work;
at the works of your hands I sing for joy.

– Psalm 92
We were made to work even before sin entered the world, but I reckon work/time-outside-on-a-beautiful-day bal­ance would've been bet­ter then! For those trust Jesus, a future is com­ing where every day all are freed to give thanks to Him for­ever…  even those stuck in beige office towers!