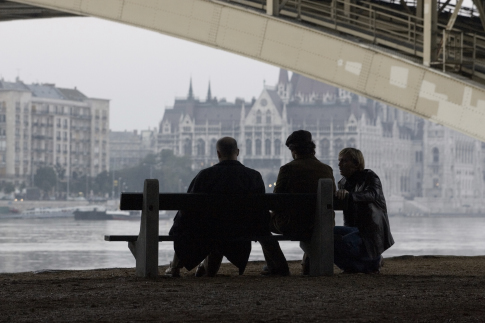 I'm try­ing to write about this movie (I just deleted a post and started again) and can't do it jus­tice. You absolutely must see it. Take tis­sues. It's been described as a prayer for peace, but I see it equally as a tes­ta­ment to how messed up and sin­ful human­ity is. This passed between Math­ieu Kassovitz's (Birth­day Girl; Amélie; The Fifth Ele­ment) char­ac­ter, Robert, and Avner (Eric Bana — Aus­tralian. Troy; voice actor in Find­ing Nemo; Black Hawk Down):
"We're Jews, Avner. Jews don't do wrong because our ene­mies do wrong."
"We can't afford to be that decent any­more."
"I don't know that we ever were that decent. Thou­sands of years of hatred doesn't make you decent. But we were sup­posed to be right­eous. It's a beau­ti­ful thing. That's Jew­ish. That's what I knew. That's what I was taught. And now I'm los­ing that… and I lose that and… that's… that's every­thing. That's my soul."
 — whilst Avner's mother speaks of them fight­ing for a place… on earth. And all the while Avner is away from his child, whose voice brings him (and the audi­ence) to tears. He speaks to his daugh­ter afraid she won't ever meet him/remember him, hear his voice in person.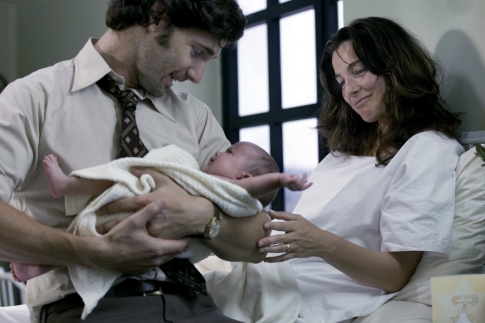 This is the story of one man and the impact all this evil had on him, beau­ti­fully (haunt­ingly) told. His story feels real. There is noth­ing con­trived here. His wife is not a device, a cat­a­lyst for a roman­tic sub-plot, a draw-card for a dif­fer­ent audi­ence. Daphna and Avner and their child are a part of a rela­tion­ship that this vio­lence threat­ens to break. That is a part of what Avner is torn away from every time he plans to kill another 'tar­get'. Tar­gets, towards the end of the film, cease to be 'tar­gets' and become peo­ple. The 'safe-house', shared with the enemy. The 'local-honey trap', mur­dered arbi­trar­ily seem­ingly to avenge Carl's (Cia­rán Hinds — The Phan­tom of the Opera; Cal­en­dar Girls; Veron­ica Guerin) assas­si­na­tion. She is left naked, which seem­ingly exac­er­bates the depth of their actions and sub­se­quent guilt. Hans is dead. It's implied he was killed, though per­haps less than cer­tain. Avner's descent past the point of cop­ing has begun, and an ear­lier allu­sion to some­one who slept in a closet out of fear comes to fruition as Avner takes refuge in the same place. The bomb maker, Robert, dies at the hands of a fer­ris wheel. Any detach­ment from the mur­ders of peo­ple we might once have had is now thor­oughly dis­missed, on both sides. The only 'bias' that poten­tially exists stems from the per­spec­tive from which the story is told… but Spiel­berg is suf­fi­ciently ran­corous towards the Israeli estab­lish­ment — in fact, prob­a­bly a lit­tle more so (could just be my read­ing of it: either way, it was fairly neu­tral, but I sym­pa­thised more — if I did 'sym­pa­thise' at all — with the 'oppo­si­tion' in this film for what­ever reason).
Go watch the movie. It's def­i­nitely not a pleas­ant film, nor, at 164 min­utes, is it par­tic­u­larly quick… but it's worth seeing.