Or, an arti­cle denounc­ing the "web is smaller" graphic design mantra. Appar­ently, it's all about size…
Today I received an email from a graphic designer we're [base10solutions, that is] col­lab­o­rat­ing with in build­ing a web­site, and this com­ment about source images and com­puter screens came up:
I know we said to make the flash ones a really hi res pic­ture… but you cant view more than 72dpi over the net anyway.
It's not as though peo­ple who say this are just stu­pid: the whole "72DPI" myth has been prop­a­gated for… a bloody long time. It's one of those things stuck in the col­lec­tive uncon­scious­ness of the world's graphic design­ers, espe­cially those who have flirted with design for the screen only occasionally.
The designer we're work­ing with is great… this isn't in any way against her, but her email pro­vided an oppor­tu­nity to jump up and down, and there are two rea­sons for that.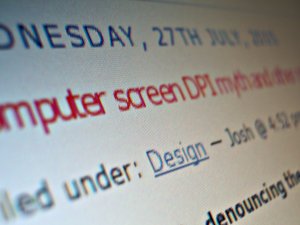 Firstly, mon­i­tors don't all dis­play the same num­ber of DPI, or, more accu­rately, PPI. I think the emer­gence of a plethora of dis­play tech­nolo­gies, as well as falling costs in recent years of all kinds of dis­plays, has meant that we've seen a huge move away from 15″ screens being stan­dard (I'm hard­pressed to find any 15″ CRT mon­i­tors new, and even the LCD mar­ket is shift­ing towards 17″ screens) — and "sen­si­ble" res­o­lu­tions on these (1024x768, max) have sim­i­larly been aban­doned. This means, of course, that the com­mon wis­dom regard­ing dis­play res­o­lu­tion has become irrelevent, and ulti­mately false.
Let's do some maths for a sec­ond. I hate this as much as the next per­son, but… well, it's required.
I've got a 1280x1024 screen. It's roughly 13.3x10.6 inches in size (17″ diag­o­nally), which equates to about 96dpi. Try this:
1280÷13.3=96.2dpi
1024÷10.6=96.6dpi
It's not hor­ri­bly com­pli­cated maths, but appar­ently much of the graphic design world hasn't even both­ered to do that much for some time, instead accept­ing what Pho­to­shop or ImageReady says in all its wis­dom when it advises that "72dpi" is for the web. Yeah, okay.
Hav­ing said that, an image 600 pix­els wide will (in 90% of cases) always be 600 pix­els wide when pub­lished to the web. This means that it'll always take up about 58% of an 1024 pixel wide screen… it also means that it'll take up only 46% of a 1280 pixel wide screen. An image's embed­ded res­o­lu­tion has absolutely no impact unless it's being printed and the soft­ware spool­ing it to the printer under­stands this.
So, I sup­pose you could say I'm get­ting hung up over words (again) — but I'm not really. There's a per­fectly valid rea­son to pro­vide higher res­o­lu­tion cre­atives to your web peo­ple (if you're a graphic designer) — they want source res­o­lu­tion just as much as you print junkies do. For the web­site we're build­ing, we were going to con­struct a Flash ani­ma­tion that had a spin­ning image in it. If we've got higher res­o­lu­tion source, it's pos­si­ble to do more funky stuff with that (because, in this case, it really is purely about eye candy), just like it is in print (though with­out the sta­tic nature).
It's worth remem­ber­ing (espe­cially when a web team are devel­op­ing end-to-end cre­ative deliv­er­ables) that the client is ulti­mately respon­si­ble to some extent for the qual­ity of the fin­ished prod­uct. An eye for design isn't nec­es­sar­ily their sphere of influ­ence, but pro­vid­ing resources to facil­i­tate good design is. And good design is best achieved with good resources.
There's a com­mon mis­con­cep­tion, it seems, that web design­ers only want cre­atives sup­plied in PNG or GIF for­mat. Most print design­ers realise JPEG images are fairly lossy, so that hasn't ever been too much of a prob­lem (for me)… but cer­tainly the PNG/GIF thing is. At any rate, just so the world knows, us web peo­ple don't mind more than sin­gle layer ras­terised images or mock­ups when build­ing sites.
And we cer­tainly don't need you to splice the web­site up for us… that's been another con­cern in the past. I've spent two hours piec­ing a sup­plied web­site design back together before I even start pulling it apart (again) for CSS treatment!
In fact, in my expe­ri­ence (such that it is), it seems that the less graphic design­ers think about the fact that the cre­atives they sup­ply are ulti­mately end­ing up on the web, the hap­pier every­one is. So here's my rec­om­men­da­tion: don't think of it as web any­more. Any web devel­op­ment agency worth their salt should know what to do with what­ever source mate­r­ial you throw at them, and if they can't use it then it's their job to say, not the designer's to guess.